Window Replacement Services
Is your window damaged beyond repair?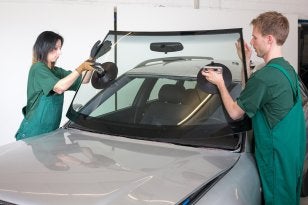 For more than 20 years, our team at Pacific Auto Glass has helped car owners throughout the Ontario, California, area with various types of auto glass-related problems. Our technicians are certified through the National Glass Association and our company is a member of the National Glass Association. Regardless of whether your windows or windshields need to be replaced, we can help!
Advantages to working with Pacific Auto Glass include:
Free estimates are available
Mobile auto glass services are available
We can bill most insurance companies on your behalf
If your windshield or windows are damaged in any way, do not drive to our shop. We can come to you within a timely manner and replace your auto glass safely, affordably, and efficiently. It is illegal and very dangerous to drive with broken auto glass in California, so do not jeopardize your life, others' lives, and getting a ticket by driving your damaged car. Contact our Ontario auto glass repair technicians at (909) 687-7995 today to schedule an appointment.