Windshield/Glass Repair
We Serve Ontario and the Surrounding Areas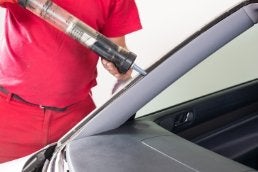 Regardless of whether road debris or an accident with another vehicle damaged your auto glass, it is vital you have it fixed as soon as possible. Cracks and chips can often be repaired, instead of you having to pay for an entirely new windshield or window. However, the longer you wait to have said repairs completed, the crack or chip in your auto glass can become worse, which may lead to you needing to replace the entire glass area. At Pacific Auto Glass, we have the experience and skills to perform windshield and auto glass repairs.
When you hire our team, you can receive the following benefits:
Mobile services are available
We can bill most insurance companies on your behalf
Having certified technicians who have more than 20 years of experience repair your auto glass
Why pay more money for a big-name auto glass company to fix your vehicle when we offer the same, if not better, service for more affordable prices? We also offer free estimates, both in-person and over the phone, so you have nothing to lose and potentially a lot of money to save by hiring Pacific Auto Glass! Call us now at (909) 687-7995.